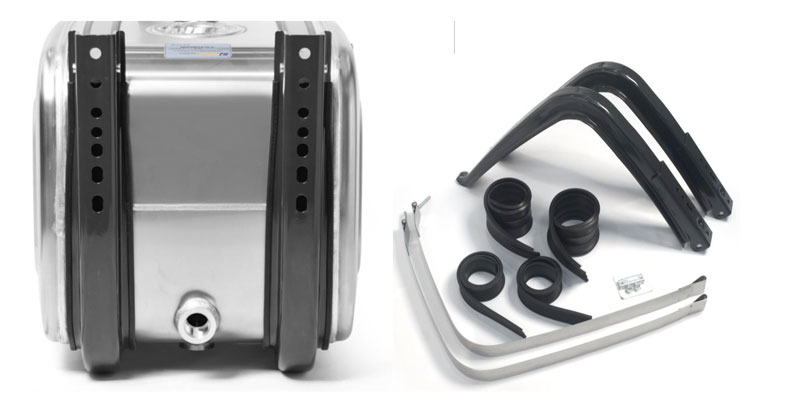 Nouvelles15 December 2022
DUAL MOUNTING KIT. WHEN DURABILITY AND LOGISTICS COME TOGETHER
The design of a tank involves several stages, all of which are essential to guarantee long-term organic quality.
At the same time, each component is crucial for ensuring that this quality can be expressed in challenging conditions, supporting the operator throughout all the stages of daily working life.
The connection between the frame and the tank is therefore one of the key points, and so the mounting kit becomes increasingly important in installation, maintenance and operation for the installer and final user.
So what are the focal points behind this significance? Let's start with an assumption: the fitting kit, through its supports, straps and EPDM gaskets, contributes to preserving performance over time, taking care of the tank and managing, for its part, the stress caused by working conditions.
This applies to both industrial vehicles and machinery, without exception, considering the growing potential for power and performance of applications.
Durability is the key word, through metal supports that are designed to fit the tank and follow the lines of the design. Another key role is played by the stainless steel straps, the kit's componente that must facilitate easy installation and maintenance.
What does this mean? In a few words, ease of fastening and, at the same time, ease of release for routine cleaning operations.
Finally, EPDM gaskets protect the installer and maintainer from metal profiles and ensure that the straps blend in with the tank body.
How is all this tested? Padoan, through its R&D department, has developed and made available a machine that simulates mechanical stress over time, with intense cycles both during the engineering and prototyping phase and during normal production with dedicated sessions.
All of the mentioned relates to the technical specifications of the mounting kit, but another side is becoming more and more fundamental: logistics.
Infinite warehouse space is making way, increasingly, for the optimisation needed to be efficient, and this cannot be dissociated from tanks management.
We know that managing the space to stock tanks, whether hydraulic, diesel or combined, requires optimisation and on this point Padoan has always been committed to providing solutions.
Beyond the collateral services managed by our #tankspecialist team for which our technical and sales teams are at your disposal, there is no doubt that having only one tank that can be managed both for side and rear installation can be a great advantage.
Impossible? Certainly not, thanks to the DUAL system available for multiple hydraulic oil tank families.
DUAL means the opportunity to keep a single tank available with the option of both side and rear cab installation.
The saving of space in the warehouse is crucial, and is matched by Padoan's usual commitment to delivery schedules.
For our team, being a partner also means this, so providing solutions that go beyond a product, to provide value in day-to-day life.
If you are interested in deepening the opportunities provided by Padoan, also involving the oil and diesel accessories range, do not hesitate to contact our Sales Managers through our quick form by clicking here.
#WETANKYOU
Téléchargez la
brochure de notre société
Découvrez notre catalogue, avec toutes les informations détaillées concernant nos produits.
TÉLÉCHARGER LE PDF