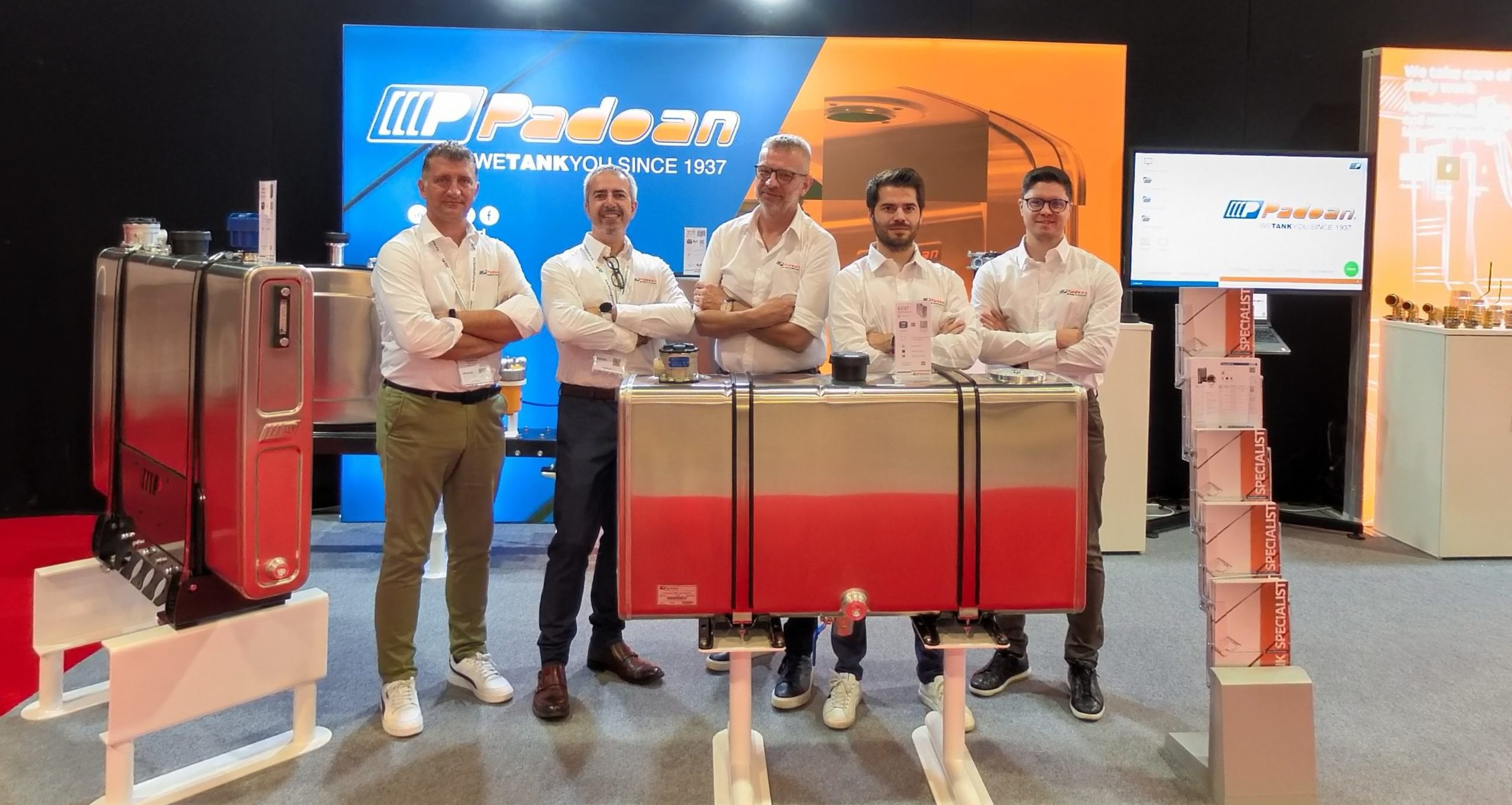 News30 June 2023
Aftershow – RTX23 UK
After a successful show we say "It's a wrap!".
We prefer to say "Thank you".
Living 3 days of meetings, conversations, discussions on technical details, requirements and goals is valuable to us.
That is why our payoff #WETANKYOU becomes WEThANKYOU for your interest in Padoan solutions.
There is no doubt that some keywords are recurring during the fair, and they cut across different players and fields.
So here is a quick summary of the most interesting topics discussed:
Lack of space on the chassis
There is no doubt that new propulsion technologies are a game changer. Space on the chassis for hydraulic tanks is decreasing and sometimes no longer exists. We have developed a specific range of solutions for rear cab applications ranging from 90 to 200 LT total capacity.
Width is crucial: TLINE is only 180 mm wide, 70/70R 230 mm and 63/27 270 mm. Many opportunities available.
Reliability
Applications are becoming increasingly sophisticated, which means that every component of the system must be reliable, resistant and leak tested. We provide 1:1 tested tanks through a specific vacuum machinery. In addition, a crack testing machine monitors vibration resistance during daily use, simulated in long sessions during the design process and on a sample basis.
Seriality and industrialisation
Radical customisation is useful when it is necessary to exploit very narrow and shaped spaces. On the other hand, handcrafted production does not allow for seriality, and sometimes the welding process creates metal chips that damage the hydraulics in the suction and operating phases.
Our solutions are industrialised and have perfect replicability to avoid any issues.
In addition, robotic welding technology allows us to provide tanks with an extremely high level of internal cleanliness.
Turnkey solutions
When it comes to installation, it is necessary to have all useful components on hand. Managing purchases from different suppliers is not time-efficient. That is why we provide a wide range of filters, fittings and collateral components to create the 'perfect kit' for OEMs, bodybuilders, installers and distributors. Your time is valuable to us.
The Road Transport Expo 2023 at Stoneleigh Park has come to an end, but new opportunities are always available to achieve your goals.
We are just a phone call or email away.
Let's keep in touch!
Haven't had the opportunity to visit us? Below is a 360° tour of our stand!
Download our
company brochure
Discover our catalogue, with all the detailed information about our products.
Download PDF