News14 April 2021
Padoan in Bulk & Tipper – April issue
We are featured in the April issue of Bulk & Tipper, a UK quarterly magazine focused on the world of tippers and bulk haulage.
The continuous collaboration with manufacturers and bodybuilders, and the involvement of end users has allowed us to be present with two fantastic installations.
The space reserved to Padoan tanks and to the distinctive features of the brand in Bulk & Tipper is the first step towards the Tip-Ex 2021 exhibition (30th September – 2nd October), which will see the participation of Padoan (Stand A15), originally planned for 2020.
We are always happy to receive and publish on our communication media (online and in print) the testimonials of those who rely on the Padoan solutions for their daily work and to support their applications.
Do you have a Padoan tank installed on your vehicle? Do not hesitate and send us your picture to info@padoan.it
Do not hesitate to contact us to explore how the Padoan team can support you in finding the best solution for your hydraulic application on your industrial vehicle.
The standard catalogue, developed with our customers, supports multiple applications.
At the same time, the continuous support of the Research and Development team is at the disposal of manufacturers, bodybuilders and installers to identify customized solutions useful for specific requirements, acting since the design of the applications.
Contact us to reach your goals.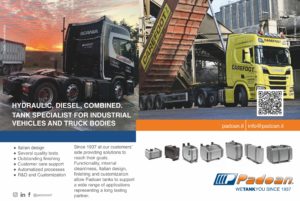 Download our
company brochure
Discover our catalogue, with all the detailed information about our products.
Download PDF