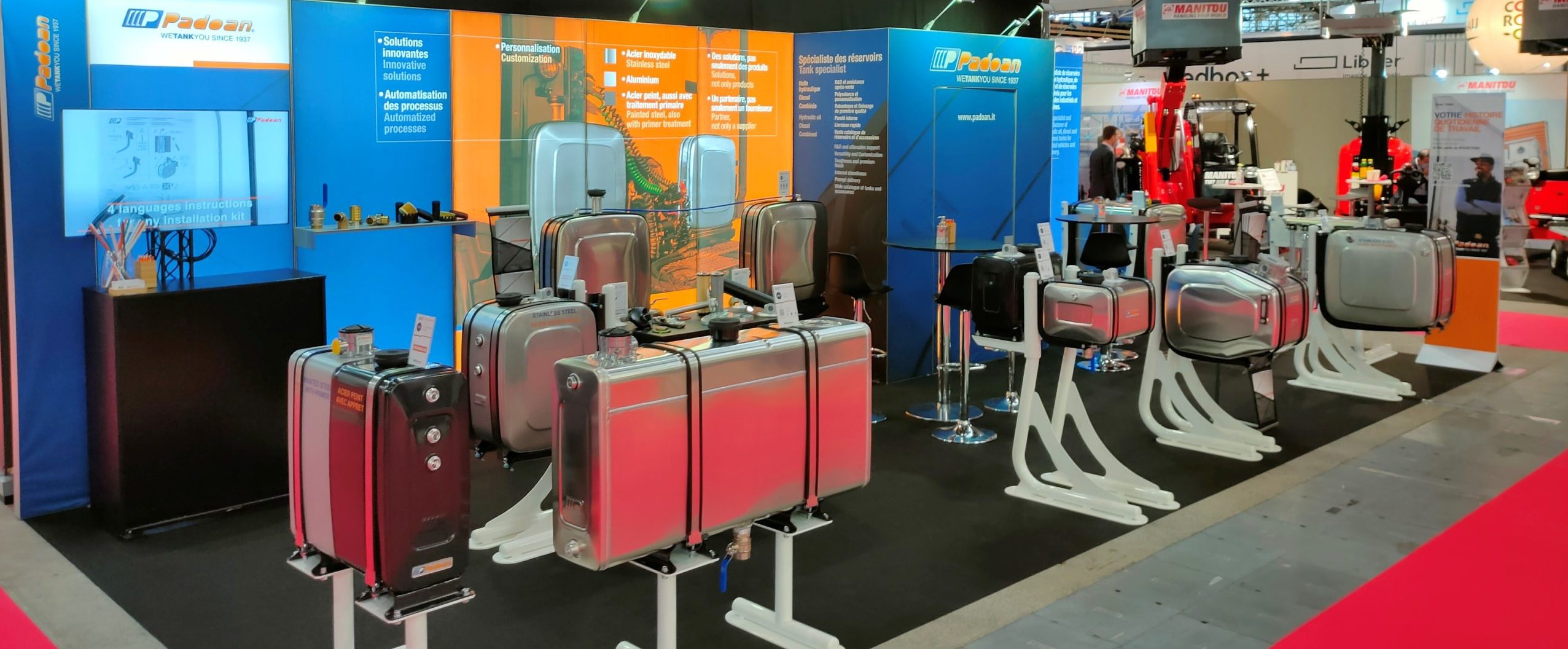 News26 November 2021
SOLUTRANS 2021, OUR POINT OF VIEW
The Padoan team came back to Italy a few days ago after the successful experience of Solutrans 2021.
A heartfelt thanks goes to those who visited us: manufacturers, bodybuilders, distributors, service & repair shops and users who have deepened their knowledge of the Padoan solutions at the service of multiple applications.
Ten Padoan tanks were exhibited, including oil, diesel and combined, as well as accessories.
Among the most appreciated tanks, the new oil solution 70/70 stands out with a minimum depth of 230 mm, available with one or two tanks.
The R&D department has studied the increasingly urgent need to install hydraulic tanks in the limited space available on the vehicle.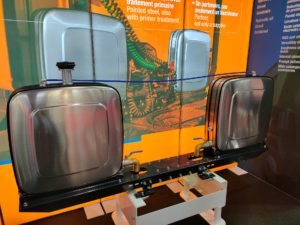 This requirement is due in particular to the space occupied by existing chassis-mounted fuel tanks for alternative motorisation, which require an increase in the vehicle's range by reducing the refuelling frequency.
This led to the creation of the rear-cab solution, which can be installed in two configurations:
– One tank: 90 litres (85 litres at the level indicator)
– Two tanks: 180 litres in total (170 at the level indicator).
This innovation provides hydraulic applications with consistent fluid availability while optimising flow, fluid temperature, ease of installation and maintenance.
This solution includes a shock absorbing frame mounting system, with a multi-fitting layout compatible with a wide range of vehicle frames.
Our R&D, Sales and Customer Care departments are available to provide a full overview of the functional and operational advantages of this solution, which meets the needs of a wide variety of applications.
Considerable attention was also given to the models 63/27 (rear cab), T20 (side), to the stainless steel (one of Padoan's uniqueness) and to the painted steel with primer, as well as discussions on specific applications and customizations that can be made by our engineering and manufacturing teams.
Special remark for the diesel and combined tanks, for which a relevant request has raised not only on commercial and industrial vehicles, but also on static and off-vehicle applications.
For more than 80 years we have focused on finding practical, timely and useful solutions for people who create value through their work every day.
This vision includes the availability of a wide range of accessories such as filters, adapters, ball valves, level indicators and many other components.
This edition of the French show also brought gratification and, above all, allowed us to talk, discuss and deepen operational and practical needs that make the difference in the daily lives of our customers and end users.
Discover our 360° navigable stand and write to us to find the best solution for your needs.
Download our
company brochure
Discover our catalogue, with all the detailed information about our products.
Download PDF