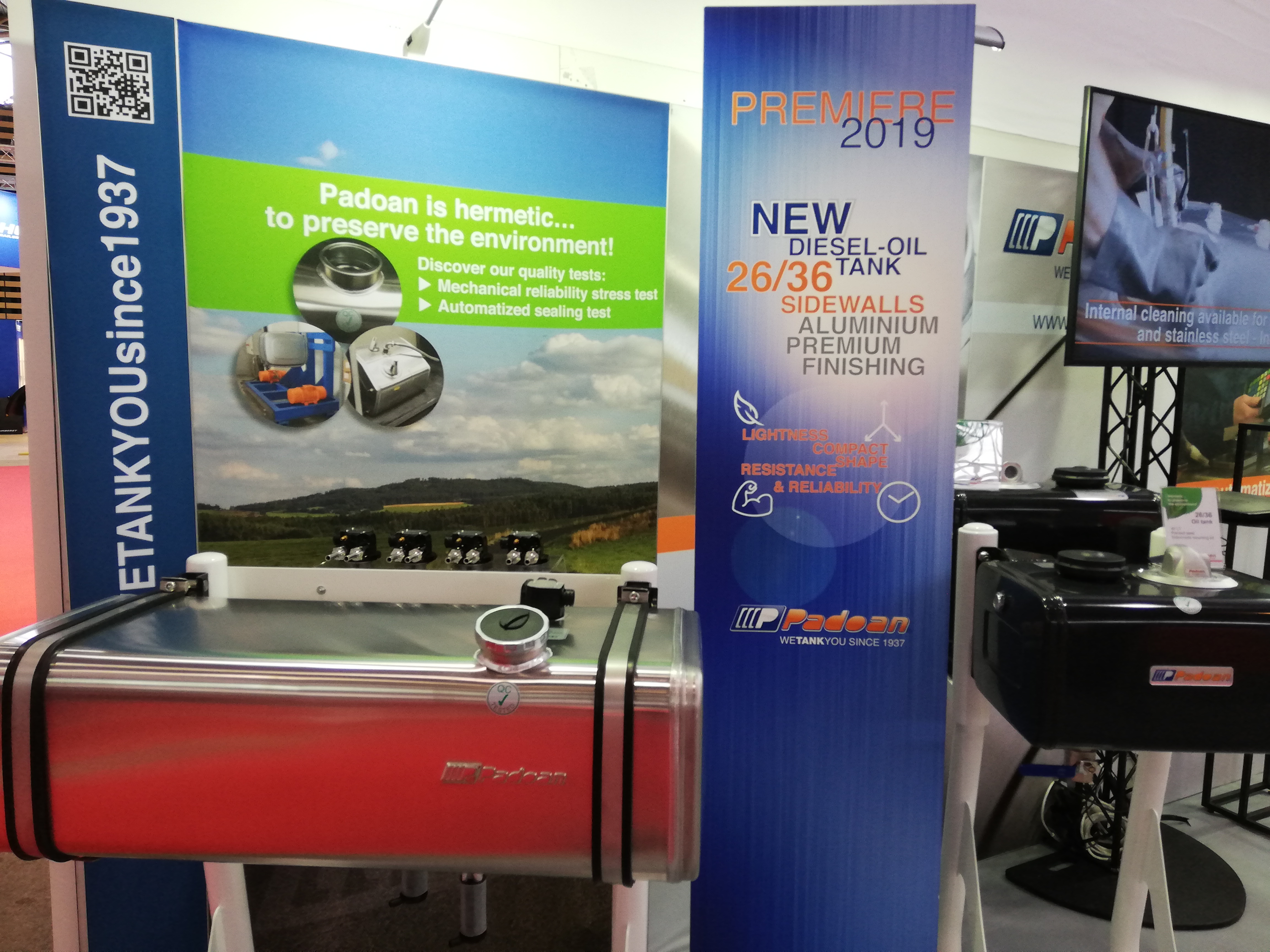 News10 December 2019
After Exhibition – Solutrans 2019
Solutrans, the international show focused on urban and road transportation, has been a success for Padoan.
The exhibition in Lyon has been the perfect stage to put important issues under the spotlight.
First of all, the care for the environment has been one of our key-points, thanks to several internal processes to verify the hermetical seal of our tanks avoiding losses of fluids dangerous for the environment. Padoan keeps a continuous commitment in the development of state-of-the-art solutions.
In addition to the mechanical cracking test, which simulates long runs of use in challenging working conditions, among the strenghts of Padoan, our clients can count on the one-to-one hermetic seal test just before the packaging station.
Among the other focuses on Solutrans 2019, the brand new diesel-oil tank 26/36 has been the main actor, available in aluminium and painted steel.
Compact shape, premium finishing, resistance and long life expectancy are its strenghts.
The dimensions of the sidewalls are 26 cm (h) and 36 cm (w) and the tank has a full capacity from 60 to 120 liters.
It is the new member of 26/36 family, already introduced at IAA 2018 with the low capacity oil tanks with 26/36 and 36/26 configurations, from 30 to 50 liters of full capacity.
The 26/36 diesel-oil tank particularly fits with commercial vehicles, in several different applications required by bodybuilders met at the show.
We have put the spotlight also on the range of accessories for diesel-oil tanks, with the availability of the kit which includes tank, fuel sensor and fuel gauge, all of them Padoan branded.
Padoan is deeply focused on the clients' needs, and this kit is made to provide a complete solution for the tank substitution, usually done from the original one to Padoan tank, having a prompt installation and a clear indication of the fuel level.
A wide range of oil tanks made of aluminium and stainless steel has been among the main actors at Padoan booth.
Stainless steel is one of the flagship of Padoan, who propose this specific material that particularly fits with challenging work conditions.
Several focuses have been part of this experience at Solutrans 2019 and now it is time to be focused on the next show, The Work Truck Show 2020 in Indianapolis, from 4th to 6th March.
Download our
company brochure
Discover our catalogue, with all the detailed information about our products.
Download PDF