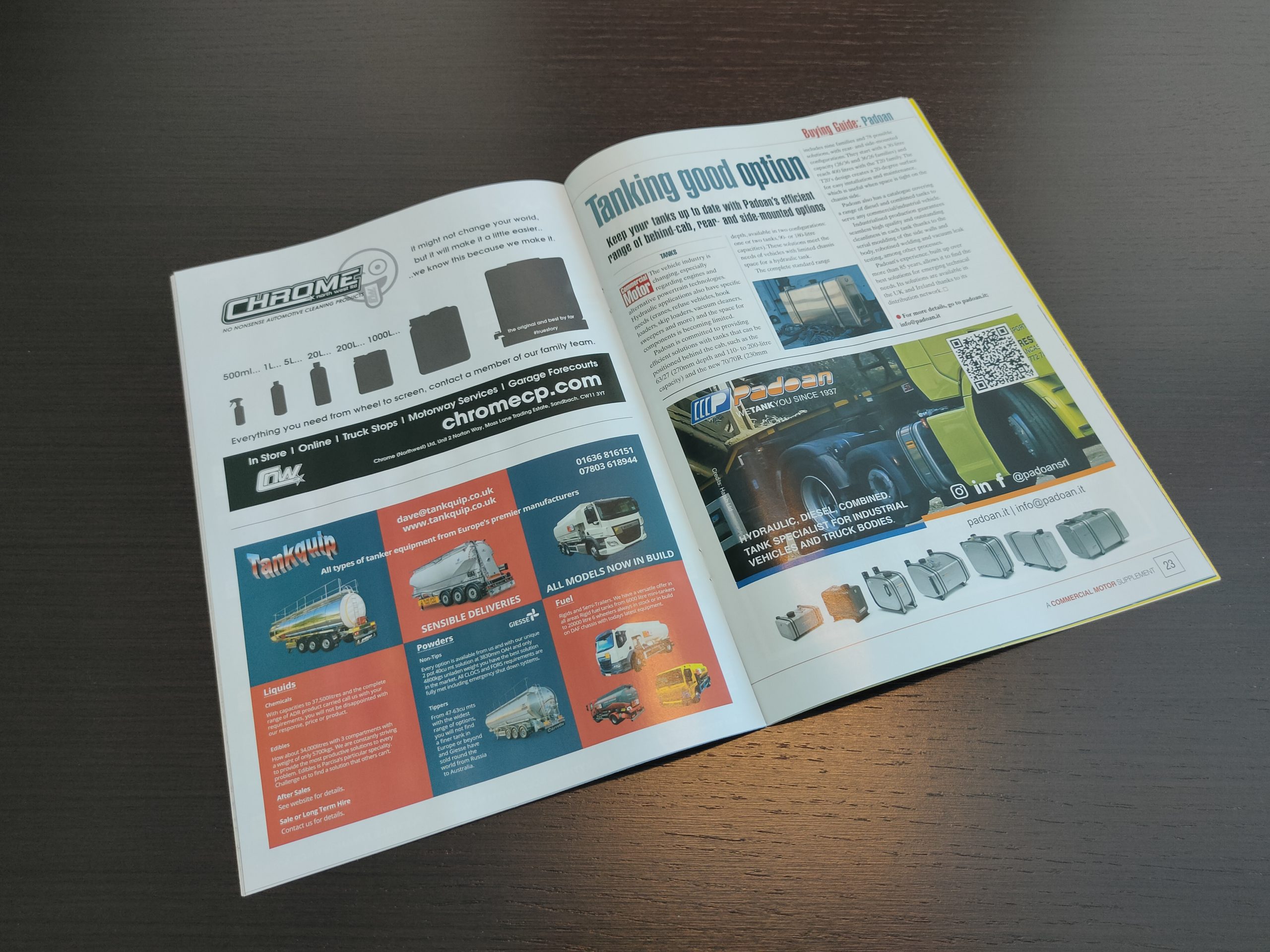 News19 April 2022
Commercial Motor – Buying Guide April issue
Padoan is featured on April issue of Commercial Motor – Buying Guide.
Have a look at the article and contact us to get the solution to meet your goals!
"The vehicle industry is changing, especially regarding engines and alternative powertrain technologies.
Hydraulic applications also have specific needs (cranes, refuse vehicles, hook loaders, skip loaders, vacuum cleaners, sweepers and more) and the space for components is becoming limited.
Padoan is committed to providing efficient solutions with tanks that can be positioned behind the cab, such as the 63/27 (270mm depth and 110- to 200-litre capacity) and the new 70/70R (230mm depth, available in two configurations: one or two tanks, 90- or 180-litre capacities).
These solutions meet the needs of vehicles with limited chassis space for a hydraulic tank.
The complete standard range includes nine families and 78 possible solutions, with rear- and side-mounted configurations. They start with a 30-litre capacity (26/36 and 36/26 families) and
reach 400 litres with the T20 family. The T20's design creates a 20-degree surface for easy installation and maintenance, which is useful when space is tight on the chassis side.
Padoan also has a catalogue covering a range of diesel and combined tanks to serve any commercial/industrial vehicle.
Industrialised production guarantees seamless high quality and outstanding cleanliness in each tank thanks to the serial moulding of the side walls and body, robotised welding and vacuum leak testing, among other processes.
Padoan's experience, built up over more than 85 years, allows it to find the best solutions for emerging technical needs. Its solutions are available in the UK and Ireland thanks to its distribution network."
Download our
company brochure
Discover our catalogue, with all the detailed information about our products.
Download PDF